vendredi 16 mars 2007
Dernières nouvelles : / Last news :
Pour aller au plus court voir mes derniers posts :
Shortest link to my last posts :
http://laetsgo.canalblog.com/archives/p80-10.html
Ce blog n'est plus actualisé, car je suis rentrée de SVE en octobre 2007, mais je suis les commentaires, donc n'hésitez-pas !
This blog is not actualised anymore, since I finished my EVS in october 2007, but I still follow the comments, so don't hesitate !

* A part of my messages are translated in English !
I wanted to work on the whole blog, but time's always missing...
If you need any help cause you're not understanding the French version, please, tell me !!! *
BIENVENUE sur mon blog !!! / WELCOME on my blog !!!
Après avoir longuement réfléchi (au moins quelques minutes... ;-b), je me suis dit qu'un blog est surement le moyen le plus simple de partager mes "aventures" sans faire exploser les boites e-mail de tout le monde... et avec des PHOTOS !!
Alors voilà, je me lance, et je vais tacher de faire en sorte que ce blog devienne un lieu où vous viendrez et re-viendrez avec plaisir et curiosité !!
I think a blog is the easiest way to share my "adventures" without making everybody's e-mail boxes explode... and with pictures !!
So, I'll try to create a blog on which you'll come and come again with pleasure and curiosity !!
PS : Les premiers messages sont une rétrospective inspirée des e-mails collectifs que j'envoyais au début de mon projet...
PS : The first messages are a flash-back inspired from the collective e-mails I was sending at the beginning of my project...
samedi 17 mars 2007
Et bien, about me... / So, about me...
...y'a pas tant de choses à dire !
... there's not so much to say !
Je m'appelle Laetitia, 22 ans, sagittaire.


My name is Laetitia, 22, Archer.
J'ai la chance d'avoir grandi en Corrèze (dans le Limousin, bordure Ouest du Massif Central...), plus précisément dans les Monédières, qui font aujourd'hui partie du Parc Naturel Régional de "Millevaches en Limousin".
I'm lucky enough for having grown up in Correze (in the region Limousin, on the West side of the Massif Central in France...), more precisely in Les Monédières, which are by now a part of the Regional Natural Parc "Millevaches en Limousin".
Mais trève de bavardage, rien ne vaut mieux qu'une photo pour exprimer ce que je pense de ce petit coin de verdure perdu au milieu de la France...
But stop chatting, there's nothing better than a picture to express what I think about this little green area lost in the center of France...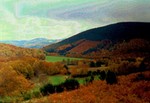 Hé oui, c'est chez moi !!!
Yes, that's my home !!!
Mais il manque encore un petit quelque chose... :
But something is still missing... :
Je ne vous ai pas dit ?
J'aime beaucoup les chevaux. Non ! Pas les courses ou le saut d'obstacles ! Ce que j'aime, c'est la randonnée, le plaisir de vivre une aventure passionnante en compagnie de chevaux, et l'équitation Western !
Didn't I tell it to you ?
I really like horses. No ! That's not about races neither jumping ! What I like are horse trekkings, the pleasure to live an exciting adventure with horses, and Western Horse-riding !
Coté school, après des études de Bio, où j'attendais désespérément quelques cours d'Ecologie, j'ai choisi de me réorienter vers une Licence Professionnelle "Concepteur et Accompagnateur en Ecotourisme"...
About the school side : after some studies in Biology, during which I was expecting in vain some lectures about Ecology, I chose a Professional Licence "Design and Guiding in Ecotourism"...
... et voilà ! "Diplôme en poche", j'étais libre de réaliser ce dont je rêvais depuis un sacré bout de temps : VOYAGER !! vers de nouveaux horizons, et à la découverte de rythmes de vie et de pensées alternatifs !
... Hey presto ! Once I obtained my diplom, I was free to realise what I had dreamed about for a while : TRAVELLING !! towards new horizons, discovering alternative life rythms and thoughts !
C'est comme ca que mon histoire avec le SVE a pu commencer...


Like this could begin my story with the EVS...
Où il est question de SVE... / Where it's talking of EVS...
L'an dernier, pendant la Licence Pro "Ecotourisme", on a souvent parlé du SVE entre nous - Le Service Volontaire Européen, un des programmes mis en place par l'Europe dans le cadre du grand programme "Jeunesse en Action".
During the last year, with my "Ecotourist" classmates, we talked a lot about EVS - the European Volunteer Service, one of the programs the European Union is developing within the great program "Youth in Action".
Sans vouloir faire la pub (les C.R.I.J. et autres structures d'envoi sont bien plus forts pour ça), cela s'adresse aux jeunes de 18 à 25 ans (et maintenant 30 ans) qui veulent partir vivre une expérience de volontariat à l'étranger, dans un cadre optimal.
Without advertising (that's the youth centers' job), EVS is for youngsters from 18 to 25 (and now 30 years old) who want to go to live a volunteering experience abroad, with optimal conditions.
Oui... je pense qu'il ne faut pas avoir peur des grands mots : des subventions européennes nous payent notre transport aller-retour ; on est logés-nourris ; on a une complémentaire d'assurance internationale chez AXA ; les droits/devoirs et responsabilités du volontaire, de la structure d'envoi et de la structure d'accueil ont été posés sur papier ; on est soutenu dans notre projet par l'organisme d'envoi pour la majorité des démarches avant le départ, et sûrement pareil quand on est de retour ; on a des petites formations de préparation avant de partir, quelque temps après y être, en milieu de séjour,...
Certaines régions ont même des partenariats qui permettent aux volontaires de bénéficier de bourse "apprentissage de la langue" (région PACA) ou "culture" (côté Savoie) par exemple.
Par contre pour le Limousin, y'a pas. tant pis, y'a déjà tout le reste ! Surtout que j'ai oublié de dire une autre chose importante : on a aussi de l'argent de poche !
Yes... some european subventions pay our round-trip tickets ; we've got room and board ; we've got an international AXA insurance ; the volunteer's, the sending-organisation's and the hosting-organisation's rights and responsabilities are clearly written in a contract ; we're helped by the sending organisation to complete the majority of the administration procedures before our departure, and certainly when we're back too ; we've got some short pre-departure, on-arrival and middle-term trainings,...
Some French regions have even special partnerships, and the future volunteers from there receive "language learning" or "culture" bursaries for example.
In Limousin, we don't have it. Nevermind, there are already all the other advantages ! And I forgot to tell you an other important thing : we'll have pocket money also !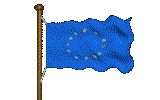 dimanche 18 mars 2007
Et c'est comme ca que tout commenca : / And that's how everything began :
Ca faisait déjà un bon bout de temps que je voulais partir (certains se souviennent peut-être de mon départ de l'U.T.Compiègne, ou de mes doutes avant de continuer pour ma 2° année de DEUG de Biologie), et puis le SVE j'en avais déjà entendu parler... C'était la démarche qui me semblait la mieux pour ma première expérience à l'étranger.
I had wanted to travel for a while, and I had already heard about EVS... According to my point of view, it was the solution that was fitting the most for my first experience abroad.
Alors, comme j'avais de toute façon décidé que cette année, c'était une année "pour moi, pour bouger", je me suis lancée...
Rendez-vous au CRIJ de Limoges, entretien avec la correspondante "International", je lui renvoie mon CV, lettre de motivations, etc... sans oublier une grande liste de projets SVE tous plus intéressants les uns que les autres évidemment ! (Mais aucun de disponible : évidemment aussi !)
Then, as anyway I decided that this year would be one year "for me, for moving", I thrusted...
I fixed an appointment in Limoges, to have a meeting with the "International projects" correspondant in the C.R.I.J. (Youth Information Regional Center), I sent her my C.V., cover letter... and also a long list of interesting EVS projects of course ! (But no one was free : what a surprise !)
Et puis je postule pour deux nouveaux :

And I applied for two new ones :
1) "the National Trust in The Yorkshire Dales" : Parc naturel national en G-Bretagne (visitez le site internet National Trust pour d'avantage d'infos).
"the National Trust in The Yorkshire Dales" : National Natural Parc in G-Britain (visit the website for more informations).
Sujet(s) du SVE : inventaires et suivis écologiques, gestion, protection, entretien, animations "nature", ...
Themes of the EVS : ecological inventories and studies, control, protection, animation,...

2) "Keimblatt Ökodorf" : asso autrichienne avec comme projet principal de créer le premier écovillage en Autriche, qui verrait le jour vers 2010-2012, avec l'installation des premiers pionniers. Aujourd'hui, la préoccupation est à la recherche du site d'implantation, de subventions, de partenariats, ..., et ... de pionniers bien sûr ! C'est également une structure de formation en Permaculture, organisant aussi des animations sur les thèmes des Ecovillages, de l'écoconstruction,...
"Keimblatt Ökodorf" : Austrian association which wants to create the first ecovillage in Austria, the pionneers could begin to set up in 2010-2012. Nowadays, the main activities are studies to find the implantation area, subventions, partnerships,... and ... pioneers of course ! They are also organising trainings in Permaculture, and animations about Ecovillages, ecobuilding,...
Sujet(s) du SVE : Vie en collectivité, participation aux activités quotidiennes au sein de l'asso (jardinage, travaux d'entretien, cuisine, construction de toilettes sèches, etc...), à la préparation et au déroulement des évènementiels (stages, animations au centre ou ailleurs).
Durée : 7 mois.
Subject(s) of the EVS : Life in a community, participation to the daily activities within the association (gardening, maintenance, cooking, construction of compost-toilets, etc...), preparing and helping for events (trainings, animations).
Length : 7 months.
Dans le genre chanceuse (mais apparemment ça arrive quand même régulièrement, pas qu'à moi), j'ai eu des réponses très rapides après avoir postulé : 3 jours après pour l'Autriche et 4 jours après pour l'Angleterre !! (enfin 3 aussi, mais on ne m'a pas laissé de message sur mon répondeur).
J'ai d'ailleurs signé aussitôt pour l'Ecovillage, avant de recevoir (toute dépitée) l'appel de GB le lendemain (et où j'ai dû essayer de baraguiner, trop gênée, que j'avais déjà commencé les démarches pour un autre projet...). (j'ai signé si rapidement car on se trouvait en fin de délai pour la remise des dossiers, et que la découverte d'un écovillage me tentait particulièrement !)
I've been really lucky (even if it's also regularly the case for some others), because I received very quick answers : 3 days later for the Austrian project and 4 days later for the G-Britain !! (in fact it was 3 too, but I didn't get a message on my answering machine).
I signed at once for the ecovillage, before I received (a bit desappointed) a call from the UK the following day (when I tried to falter, very embarrassed, that I already started all the process for an other project...). (I signed so quickly for the reason it was almost the end for the contracts starting in the beginning of 2007, and I was so excited to discover an ecovillage !)

Depuis, j'ai eu un gros coup de blues... lorsque je me suis rendue compte qu'en réalité l'écovillage n'existe pas encore, contrairement à ce que Cécile (au CRIJ) et moi avions compris => tout le projet que j'avais imaginé dans ma tête s'écroulait !! J'étais même prête à l'incorrection totale de tout annuler alors que la procédure était lancée, tellement j'avais peur de ne pas réussir à m'investir dans un projet qui n'était plus du tout celui que j'avais imaginé avant de signer.
A little bit later, I was really sad... when I realized that there is actually no ecovillage yet, contrary to what Cecile (from the CRIJ) and I understood => the whole project I imagined was destroyed !! I was even close to impolitely cancel everything even if the process was running, I was so affraid to not succeed in investing myself in a project which was not anymore what I imagined before signing !

Heureusement, j'ai repris mes esprits à temps, et la procédure s'est poursuivie... avec toujours de grandes incertitudes au sujet des dates du stage de préparation vaguement prévu du 22 au 26 janvier 07...
Fortunately, I reacted in time, and the process just continued... awith still big doubts concerning the dates for my pre-departure session, initialy approximately organised from the 22th to the 26th January 2007...
Initialement prévu pour le 5 février, mon début de SVE a ensuite été décalé, car (Bonne nouvelle !) nous sommes deux SVE à arriver en même temps, pour la même période : Rita vient du Portugal, elle aussi a 22 ans, parle un peu Français, super bien Anglais, mais peu d'Allemand (ouf ! j'ai failli avoir peur d'être la seule des deux à prévoir d'avance une "certaine" difficulté à maîtriser la langue germanique...)
First fixed on the 5th February, the beginning of my EVS was postponned, because (great news !) we are two EVS volunteers arriving in the same time, for the same period : Rita comes from Portugal, she's also 22, speaks a little bit French, very good English, but a few German words (phew ! I was almost scared to be the only one who would have "certain" difficulties to domesticate the German language...)
lundi 19 mars 2007
"Pre-departure session"...
Dans mon message précédent, j'évoque un stage de préparation à l'envoi (ou Pre-departure session) du 22 au 26 Janvier 2007... Mais voilà, il a été annulé...
In my previous post, I mentionned a pre-departure session from the 22th to the 26th January 2007... But, it has been cancelled...
C'est pourquoi, après avoir bien insisté comme quoi je voulais en suivre un (et aussi après que l'on m'ait affirmé qu'il était impossible que je puisse suivre celui de janvier qui se faisait à Clermont-Ferrand, et où allait ma p'tite Marine de Vannes (qu'est maintenant en Espagne et que j'aurais voulu revoir avant qu'on soit si éloignées), parce que cela se faisait soit-disant par région...), j'ai pu passer quelques jours d'échanges des plus agréables et des plus enrichissants, à Villandraut (près de Bordeaux) avec 22 autres futurs-SVE de régions francaises tous azimuts et 3 animateurs, tous les 25 vraiment super-méga-sympas (Farid, si tu me lis... ;-b)
That's why, after I said I really wanted to assist one, I could spend some very pleasant and rewarding days in Villandraut (in the surroundings of Bordeaux (France)), exchanging ideas about the EVS and our projects with 22 other future-EV from everywhere in France, and 3 trainers, all really friendly.
C'est passé vraiment très (trop) vite (du lundi soir 12 février au vendredi matin 16), et j'espère qu'on réussira à s'organiser au moins une rencontre côté Europe de l'Est !
Time flyed very (too) fast (from Monday, 12th February in the evening to Friday, 16th in the morning), and I hope we'll be able to organize at least one meeting in the East side of Europe !
Petite précision nécessaire pour la majorité des personnes lisant ce message : la plupart du groupe de volontaires ayant suivi la même formation que moi part vers là-bas : Autriche, Nord de l'Italie, Croatie, Bulgarie, Hongrie, Macédoine, Bosnie, Grèce, ... et même si on n'est pas complètement proche les uns des autres, je suis sûre qu'on peut réussir à trouver un point de rencontre !
Short notice which the most people reading this message could need : the most volunteers from my training are going to this part of Europe : Austria , North of Italy, Croatia, Bulgarian, Hungary, Macedonia, Bosnia, Greece,... even if we're not so close one from the other one, I'm sure we could find a meeting place !
Et pour le souvenir, quelques photos :
For memory, some pictures :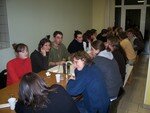 La salle commune / Photo du chateau de Villandraut et mosaique / De sacrés appétits !
Community room / Picture of the castel in Villandraut and mosaic / Good appetites !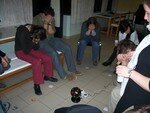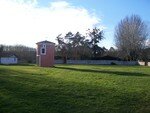 Quand vient la nuit, les "Loups-Garous" sont de sortie.. / Quelle météo merveilleuse !
When the night is coming, the "Mafia" is acting... / What a wonderful weather !

... et Préparatifs à expédier !
Et puis après ce stage de "préparation au départ" : Retour en Corrèze, à Tréphy chez mon père pour le vendredi soir (16 Fév), et à Corrèze (village) chez ma mère jusqu'au dimanche midi...
Then, after this pre-departure training : Back to Corrèze (department), in Trephy at my father's for Friday night (16th February), and in Corrèze (village) at my mother's home until Sunday at midday...

Le sac à finir, les trucs administratifs à finir de gérer, Orange qui essaye de m'arnaquer, mes dernières affaires à ranger dans mes chambres, dire "au revoir" à ma chérie Love (<=> ma jument), à Max (notre chien), à ma famille, ... puis à la Corrèze, à la France...
Luggages to finish packing, administrative stuff to put in order, my mobile-phone server "Orange" ripping me off, some last things to organize in my bedrooms, saying "au revoir" to my dear Love (<=> my horse), to Max (our dog), to my family, ... then to the Corrèze, to France...
Mais le début de nouvelles aventures !!!


But the beginning of new adventures !!!
Parce que le seul programme connu à ce moment était :
Because the only few things I knew at that time were :
Dimanche 18 Février 2007 : train Uzerche -> Paris Aust. (13h30 -> 17h40) (Soirée et nuitée merveilleuses chez Michel et Patricia)
Sunday, 18th February 2007 : train Uzerche -> Paris Aust. (13h30 -> 17h40) (Wonderful evening and night with Michel et Patricia)
Lundi 19 Février : Avion Paris -> Wien (10h30 -> 12h40) ; Bus pour relier l'aéroport à la "Gare du Sud" (~ 30 min) ; Train de Südbanhof à Feldbach (14h25 -> 17h45) ; Et arrivée à la maison "Sonnenschein"...
Monday, 19th February : Plane Paris -> Wien (10h30 -> 12h40) ; Bus from the airport to the "South train-station" (~ 30 min) ; Train from the Südbanhof to Feldbach (14h25 -> 17h45) ; And arrival into the house "Sunshine"...
Voici les coordonnées sur place :
Here the contacts :

KEIMBLATT ÖKODORF
Altenmarkt 95
8333 Riegersburg (Austria)
Tel.: +43 3153 8253
Web: http://www.oekodorf.or.at
(comme ça y'a une bonne présentation de l'asso. Mais c'est en anglais... ou allemand ! )
(There is a good presentation form the association. in English... or German ! )


mardi 20 mars 2007
Samedi 24 Février 2007 : / Saturday, 24th February :
Ca fait déjà presque une semaine que j'ai commencé mon SVE !
I've already been an European volunteer for one week !
Le voyage s'est bien passé, même si le choc avec la langue a été un peu rude : c'est simple, je ne comprenais rien, surtout pas les indications des hauts-parleurs dans les gares... Heureusement que la plupart des autrichiens parlent anglais, ca m'a permis de relier l'aéroport de Vienne au sud du pays sans trop de difficultés...
C'est sympa ! J'ai quitté Paris avec plus d'1 h de retard à cause du brouillard sur l'aéroport ; et j'arrive à Vienne : grand soleil !
The trip was ok, even if the language-shock was quite hard : it's quite simple, I couldn't understand anything, especially not what loudspeakers in train-stations said... Fortunately, the most of Austrian people speak English, that helped me for travelling from the airport in Wien to South of the country without excessive difficulties...
That's nice ! I left Paris more than 1 hour too late because of too much fog ; and when I arrived in Wien : great sun !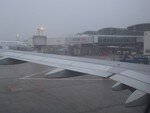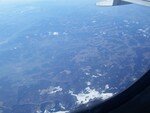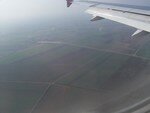 Bye bye, Paris (et sa grisaille) ! / De temps en temps, on pouvait voir le paysage à travers le hublot -
Bye bye, Paris (and its grayness) ! / Sometimes, I could see some landscape trough the window -

- il fallait bien ca pour compenser le "délicieux" repas servi à bord !
- that was a need to balance with the "delicious" meal served on board !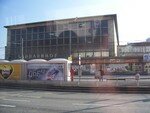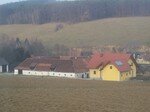 Premiers apercus de l'Autriche : La gare du sud de Vienne (Südbanhof) et des maisons colorées partout partout...
First sights of Austria : The South train-station in Wien (Südbanhof) and coloured houses everywhere...
Ici, tout le monde semble sympa. Rita, l'autre SVE, particulièrement.
Everybody seem nice here. Especially Rita, the other EVS.

Je commence à comprendre quelques mots d'allemands, même si je ne suis pas capable d'en bredouiller grand chose. Lorsque les membres de l'asso parlent entre eux, je saisi parfois quelques mots au vol, et je peux deviner un peu de quoi ils parlent (mais des fois, je comprends le contraire !)
I begin to understand some words in German, even if I'm not able to stammer a lot. When the members of the association talk together, I grasp sometimes a few words, and I can guess a little bit what they are talking about (but sometimes, I understand the opposite !)
La langue qui est la plus parlée dans la maison, c'est l'anglais : nous sommes 3 volontaires à ne pas parler allemand (Rita ; un volontaire norvégien ; et moi).
Et là j'ai déjà du mal. C'est bien simple, je suis celle qui comprend le moins, et surtout qui parle le moins bien.
C'est un peu rageant de ne pas pouvoir s'exprimer. Personnellement je suis déjà contente de ce que je comprends et de ce que je "baragouine", je pensais que ca serait encore pire. Mais ici tout le monde parle anglais tellement couramment... je me sens souvent nulle.
The most spoken language in the house is English : we are 3 volunteers which are not speaking German (Rita ; a Norwegian volunteer ; and me).
And I'm having already a hard time with that. It's as simple as that : I'm the one who undertands the least, and especially who speaks the least well.
It's a bit infuriating not to be able to express myself. I'm already glad of what I understand and mumble, I thought it whould be even worst. But everybody here speak English so fluently... I often feel terrible.
( fichu enseignement francais...

!! )
(Blasted French education... !!)
Mais sinon ca va, le moral plutôt bien aussi.
L'environnement est agréable, le château est beau, le paysage vallonné même si on n'est qu'à 300 ou 400 m d'altitude.
La maison est agréable aussi, très chauffée, même si la logique est à l'économie d'énergie et que du coup c'est surtout la chaudière sur laquelle on cuisine qui chauffe le tout. ( on peut être juste en T-Shirts !).
But besides that, I'm all right, my hopes get up.
The surroundings are likable, the castle is beautiful, the landscape is hilly even if the altitude is just around 300-400 m high.
The house is pleasant too. Even if the most heat comes from the wood-oven in the kitchen (the logic is to economize energy), the house is very warm ! (we can stay just with T-shirts !!)
Where am I ?? Wo bin ich ??
Ca, c'est une bonne question !
That's a good question !
Toujours en Europe...

Still in Europe...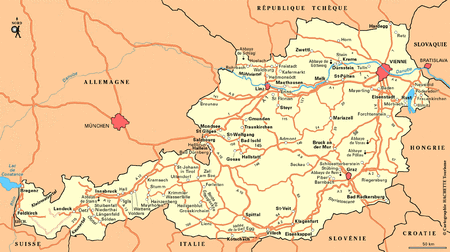 => Dans le Sud-Est de l'Autriche : en Styrie, à Riegersburg (vers l'Est depuis Graz)
=> In the South-East of Austria : in Styria, in Riegersburg (from Graz : in direction of the East)
et plus précisément, dans la Maison "Sonnenschein" (siège de l'asso "Keimblatt Ökodorf") :
and, more precisely, in the house "Sonnenschein" (project-center of the association "Keimblatt Ökodorf") :
avec un super paysage depuis le balcon !! :
with a great landscape from the balcony !! :
1° semaine dans ma nouvelle demeure / 1st week in my new house
Cette semaine (mardi 20 - vendredi 23 fév), il y avait pas mal de monde dans la maison "Sonnenschein", car c'était une semaine de travail en forêt (Wood Workshop) : éclaircie de jeunes résineux poussant trop serrés, pour faire le bois de chauffage pour l'hiver prochain.
This week (Tuesday, 20th - Friday, 23th Feb.), there was kind of lots of people in the house "Sonnenschein", because it was a week of work in the forest (Wood Workshop) : clearing of young conifers which were growing too close, to have some wood for the next winter.
On travaillait juste avec des scies et des petites haches pour ébrancher.
Mais ce n'était pas trop fatiguant quand même, car nous étions suffisamment pour travailler rapidement sur des durées pas trop longues.
We were working just with saws and small axes to take out branches.
But it was not too tiring, cause we were enough people for working quickly during not too long periods.

Juste pour la photo... (Alexander, Öystein, Rita) / Nous étions en réalité plus raisonnables...
Just for the picture... (Alexander, Öystein, Rita) / Were were in fact more reasonable...
Et vendredi, nous avons chargé les troncs sur les remorques pour les ramener à la maison.
And on Friday, we put the boles on a trailer to bring them back home.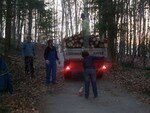 Chargement... / Loading...
(Öystein, Ronny, Rita et Alexander (de gche à drte / left to right))
...puis Organisation... / ...plus organisation...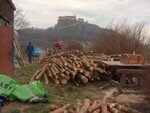 (Öystein et moi)
L'emploi du temps pendant la semaine était à peu près :

The timetable during this week was something like :
# petit-déjeuner à 9h / breakfast at 9' ;
# bref meeting pour organiser qui allait en forêt/qui préparait le repas de midi /qui restait faire autre chose à la maison / brief meeting to organize who would go to the forest/ who would cook for the lunch/ who would stay at home to do something else ;
# activité prévue / foretold activity;
# repas à 1h / lunch at 1' PM;
# bref meeting comme le matin / brief meeting like in the morning;
# temps de repos / resting time;
# activité de l'aprèm / activity scheduled for the afternoon;
# repas du soir à partir de 6h30/7h / dinner at 6:30/7' PM ;
# soirée libre ou free-time collectif (DVD (en anglais "of course"), jeu collectif...) / free evening or collective free-time (DVD (in English), collective game...).
C'est un rythme plutot agréable !
That's a pretty pleasant rythm !