lundi 22 octobre 2007
Petit train-train poursuit son chemin... / Daily grind still on its way...
Et oui ! Plus la fin de mon SVE se rapprochait, plus la vie là-bas me semblait aller de soi. Un sentiment de "comme à la maison" en quelque sorte, où les difficultés liées au fait d'être étrangère paraissent être normales, et les activités au sein de l'asso, couler de source...
The more the end of my EVS was coming, the more the life there was like being plain. A "like home" feeling on a certain way, where the difficulties related to the fact I was a stranger and the activities within the association seemed natural...
Cette fameuse fin de mon SVE, c'était le 15 Septembre. Mais mon billet d'avion, je l'avais déjà repoussé depuis un bon bout de temps pour le 15 Octobre. Alors je pouvais poursuivre tranquillement mon volontariat un mois de plus.
This famous end of my EVS was on the 15th September. But I had already postponed my flight on the 15th October since a pretty long time. Then I could quietly get on with volunteering an other month.
Continuer à m'occuper de la serre (qui était de plus en plus jolie et nous a même donné quelques légumes !), quelques tours sur le marché ou chez notre "fermier préféré", régulièrement quelques journées chez Sandra et Antòn pour aider (à curer les boxs), finir les bannières pour le site web de Keimblatt, continuer aussi ma bataille contre les souris (et les rats...) qui s'étaient installés dans la cave, participer aux diverses priorités de la maison, etc...
Continuing to take care of the green-house (which was becoming increasingly beautiful and even gave us some vegetables !), some trips to the market or at our "favourite farmer"'s farm, spending regularly some days by Sandra et Antòn to help (cleaning the stalls), finishing the web-banners for Keimblatt, getting on also with fighting against the mice (and rats...) that were recently living in the basement, participating to the various activities in the house, etc...
La serre verdoyante

et un de mes premiers poivrons !
The green-house, and one of my first peppers !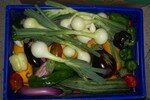 Retour du marché :
Une symphonie de légumes frais !
Back from the market : a symphony of fresh vegetables !
Commentaires
Poster un commentaire